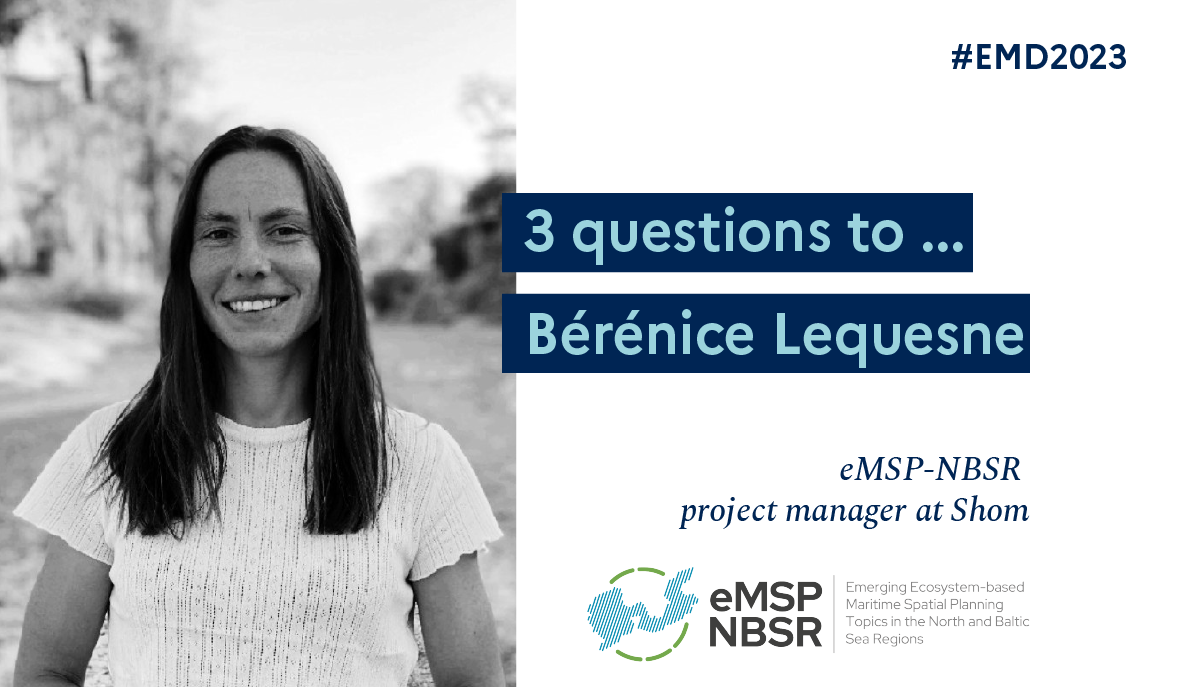 3 questions to Bérénice Lequesne on eMSP-NBSR projcet
Mis à jour le 17/05/2023
eMSP-NBSR project - emerging maritime spatial planning in the North and Baltic sea regions - started in 2021. It brings together 15 European stakeholders from 9 different countries to address maritime spatial planning issues in the North and Baltic Sea. Let's talk about it with Bérénice Lequesne, manager of the eMSP-NBSR project at Shom.
What is eMSP-NBSR in concrete terms and what are its objectives?
Bérénice Lequesne - eMSP NBSR project aims to evaluate current practices in Maritime Spatial Planning (MSP). It is a European project coordinated by the Netherlands aimong at reducing conflicts of use in the maritime space in the Baltic Sea and North Sea.
It brings together intergovernmental, scientific and academic bodies in order to work collectively on the following issues and solutions for the future :
    sharing information and data between the different maritime authorities and interdepartmental agencies of the Baltic and North Sea states
    improving the interface between scientific research results and policy implementation
    aligning the EMP documents produced between 2014 and 2021 with the vision of the Green Pact for Europe (horizon 2050)
What does Shom's participation consist of ?
BL - eMSP-NBSR project is organised around 5 themes - all of which are approached through the prism of environmental and climate change issues, in the framework of the Green Deal for Europe:
    Ocean governance,
    the sustainable blue economy,
    the ecosystem approach,
    monitoring and assessment,
    data and information sharing.
Shom is in charge of the 5th theme - data and information sharing - which I am coordinating this theme. Our aim is to work on communities of practice bringing together experts from public institutes, scientists, NGOs and the private sector.
What is Shom's added value in this project as a producer of maritime data?
BL - Shom, as a reference on maritime security and surveillance data, provides its expertise and support. Thanks to our close relations with other hydrographic services - German and Danish in particular - we are able to connect our experts.
In addition, we have experience on this type of project as we are involved in a similar project in French Guiana (MSP-OR). Hence, it creates a beneficial interface for the experts of both projects. Our involvement in this field for several years now reinforces our legitimacy and the acknowledgement of our expertise on the aspects of maritime security and surveillance on a cross-border scale.
_________
Come and discuss directly with us about this project at the European Maritime Days in Brest on 24 and 25 May 2023.
Learn more about maritime spatial planning at Shom here (in French)
Learn more about eMSP-NBSR project here (in French)
Pour aller plus loin